On the afternoon of June 23, 2018, Newton community member "the Moon Cloud Team" successfully initiated and organized Beijing Newton offline Meet-up (the second phase) with the help of the other co-organizers including the Elliptical Community, Yiniu Community, New Chain Finance, Creative Young Community, Aibi Finance, and Bitansuo. Community members come from all over the country arrived at the scene to participate in this salon.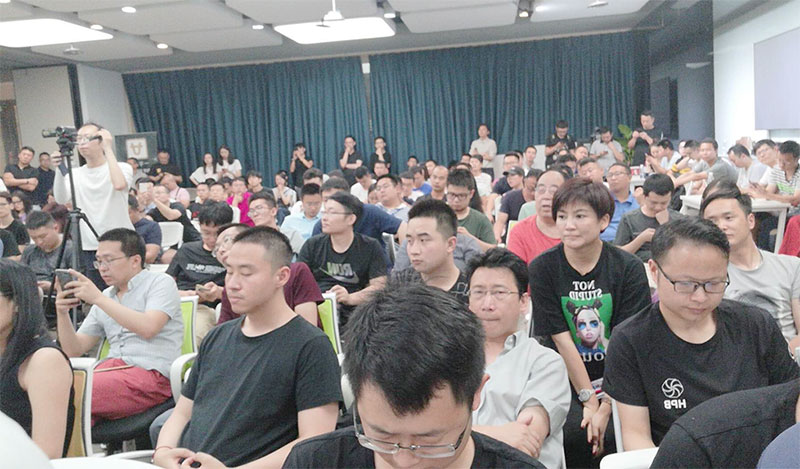 Mr. Jun Liu, Newton Angel Investor & Co-Founder of Lightinthebox, introduced his nearly three decades of experience in e-business and investment industry, and explained Newton's overseas business structure. Mr. Liu said that he has communicated with various commercial organizations and they are all willing to cooperate with Newton and conduct business in Newton Ecology system. Here are some main points from Mr. Liu's speech:
1. Feel the power of Newton community
Mr. Liu said "Today's meet-up is entirely organized by community organizations. This is completely different from my previous experience in the corporation. If this event is organised by a corporation, it will require a lot of manpower and resources. But in the field of blockchain, the Newton project has shown a new different way and made people have a new understanding of the organization structure. Compared with traditional corporate organizational forms, the community power is limitless.
2. Working experience in e-commerce industry
Mr. Liu graduated from East China Normal University in 1994. He studied computer science and environmental science. He is one of the earliest e-commerce practitioners in China. He joined Bertelsmann in 1997 and joined Dangdang.com in 2000. He once led the development of Dangdang.com's online book sales system. After that, he experienced the bubble burst of the Internet. Then he entered Joyo.com in 2002 which was sold to Amazon in 2004. After that, Mr. Liu started his own business. One of the projects is Lightinthebox, which has been listed on the NYSE in 2013. Lightinthebox has a similar pattern to JD.com, except that JD.com serves domestic customers in China while Lightinthebox serves overseas customers. After the listing, Mr. Liu left the Lightinthebox to start cross-border e-commerce investment business.
At the beginning of this year, Mr. Liu met Mr. Jizhe Xu and discussed the Newton project in depth. He thought that to some extent, his over 30 years of experience in e-commerce is just prepared for the success of the Newton project. Mr. Liu was one of the earliest participants in China's e-commerce industry. He had engaged in many promising projects, but these projects weren't so successful as he expected. So Mr. Liu continued to invest and just wanted to make larger-scale companies for a long time. However, after he met Newton, his thoughts have been altered radically. He now believes that if you are investing in a company aiming at competing with larger companies, the chance of winning is relatively small. Nevertheless, if you take the other way by creating a brand-new business ecosystem through a non-profit organization, you will have a new business model and the possibility of success will become larger.
3. About the blockchain project
Audiences asked how to identify the inferior projects in the blockchain industry. Based on many years of e-commercial experience, Mr.Liu explained that at the first, he sold books through the post office in Bertelsmann, there was no trust, no online banking or Alipay. And sometimes merchants charged fee but did not deliver the goods. This situation may also exist in the early stage of blockchain development, but this is only transactional period and there will be a method to solve it eventually. Just as Joyo.com used the method of pay for delivery, and greatly improved the success rate of the transaction.
4. Cross-border e-commerce and blockchain technology
There are huge demands for blockchain in cross-border e-commerce. Lightinthebox has employed many employees all over the world, but how to manage these overseas employees has always been a difficult task. Mr. Liu said "Today I felt the power of the community, and was inspired to understand we can gather community members strength to build an ecological environment.
5.Newton's overseas business layout
Mr. Liu said he has invested in a lot of Amazon's sellers and logistics providers and payment providers. These merchants cover the upstream and downstream of the e-commerce industry. The total business turnover of these business organizations reached 3 billion yuan.
Chinese sellers on traditional e-commerce platforms have suffered unfair treatment and the platform costs are extremely high. Therefore, these sellers are all looking for better platforms and wish to be treated with dignity. In the new business ecosystem constructed by Newton nonprofit foundation, each contributor will receive incentives. Each participant is equal in status and is an eco-co-constructor. This model will attract many sellers' business to Newton Ecology. This will not only be an individual's influence, but they know they need this.
At last, Mr. Liu hoped Newton will be able to do commercial protocols with more widespread applicability in the future, not only in the e-commerce industry.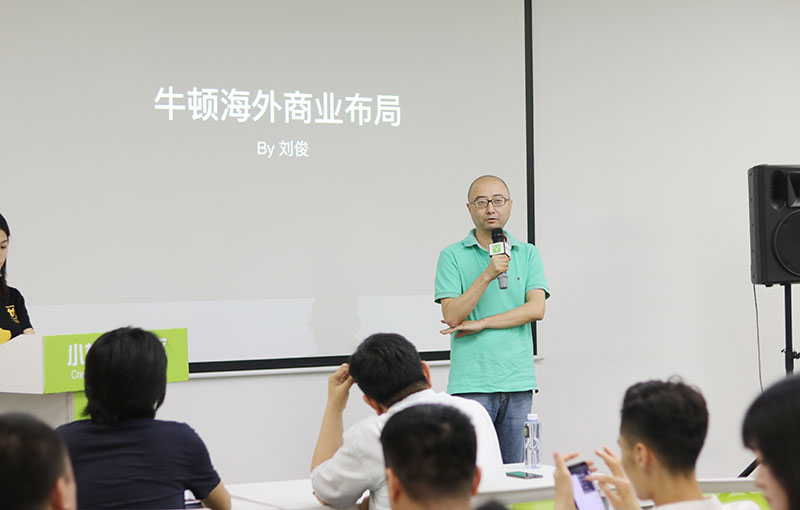 The Newton Angel Investor and Advisor and Professor Xueyong Gu from Tsinghua University gave a keynote speech titled "Blockchain and Digital Assets", demonstrating the feasibility of the Newton project from a technical perspective and proposing three characteristics that can be verified for digital assets.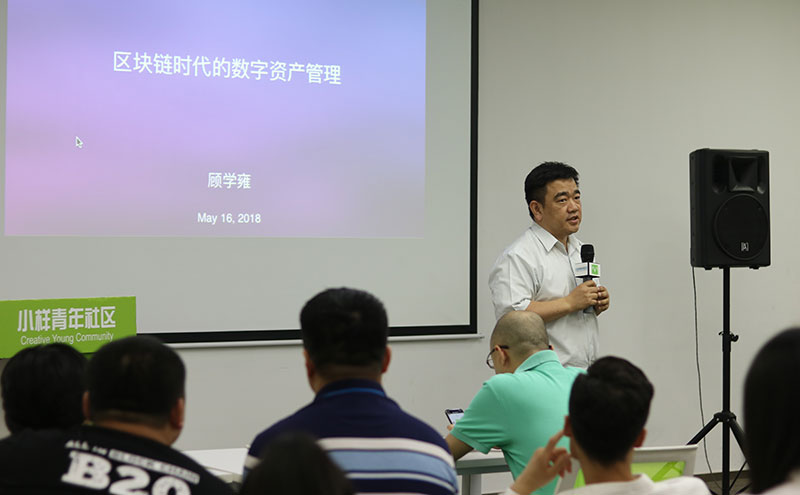 Newton advisor and Bitcoin ambassador Lee Willson gave a keynote speech titled: New people New currency New Market. Willson first introduced the story of his own experience in blockchain industry, and then interpreted the Newton project based on his many years experience in blockchain industry.
Willson believes that our current life is inseparable from the intermediary platforms in shopping, travelling and so on. In the future, Newton will construct a new protocol-based world, and peer-to-peer economy without the third party intermediaries.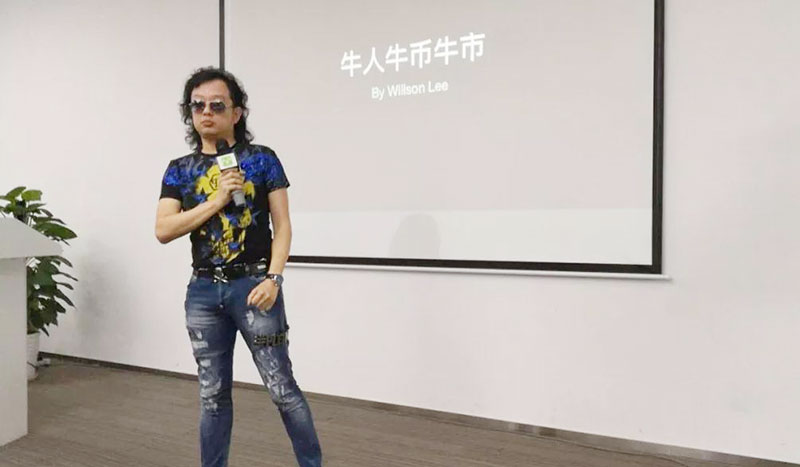 Newton founder Mr. Jizhe Xu gave a speech titled "Newton: Infrastructure for the protocol-based economy", and explained why the project was named after"Newton" and the original intention of the Newton team to create the project, the basic logic of the Newton project and so on.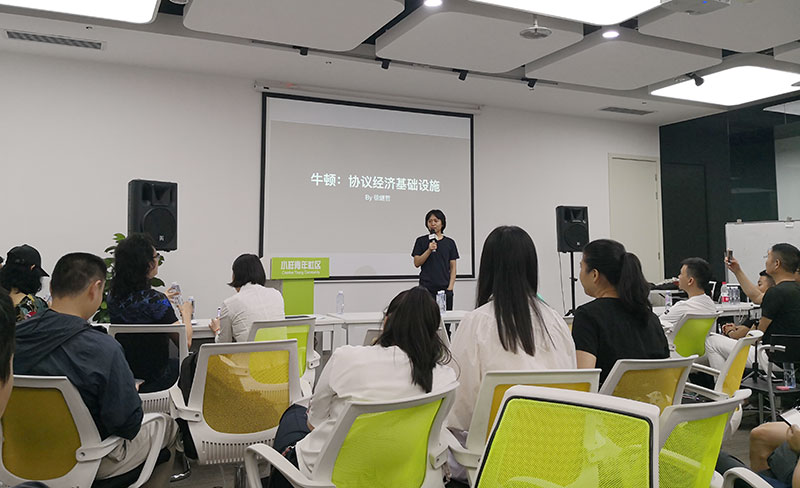 In the Q&A interactive session, the speakers answered questions from the audience about Newton's TPS, what data will be stored on the blockchain, and the relationship between Newton project and Elastos. All the guests and community members expressed their desire to use Newton project's products as early as possible and jointly create Newton ecological economy.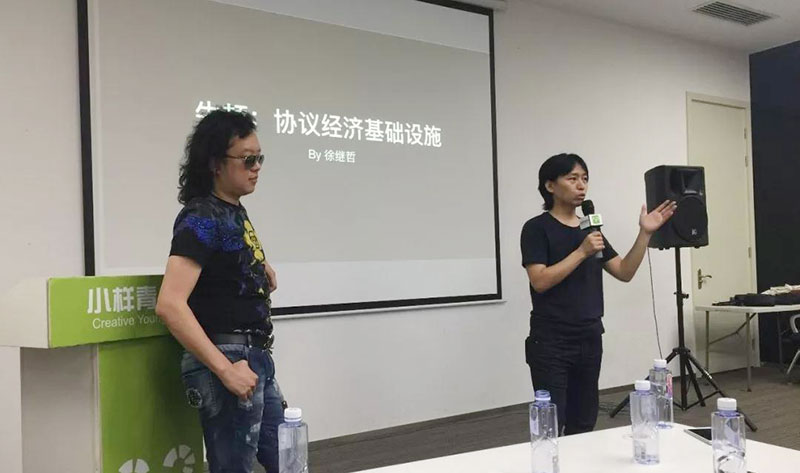 After the meet-up, Mr. Jizhe Xu accepted an exclusive interview with the renowned media "New Chain Finance" in blockchain industry.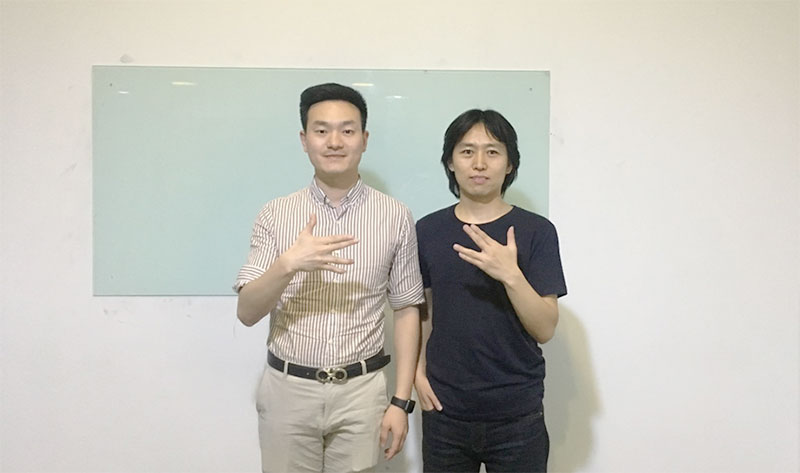 The detail contents of speeches and interviews, and the abstract of community users' interviews will be published later. Please pay attention to Newton official website.
Newton: Infrastructure for the protocol-based economy
The protocol-based economic infrastructure Newton is committed to building new organizational forms and collaborative relationships, and reshaping business rules through blockchain. Newton firmly believes that "everyone should directly benefit from economic growth" and Newton will practice "the user is the holder of their data". Newton Users will be rewarded by the value created through their own data in a pre-agreed manner.