❏ Technical Progress
Newton App:
Newton 2.0 consensus mechanism evolution is underway.
The first stage of development of newton App 2.0 has completed.
The second stage of design and development of newton App 2.0 has started.
NewExplorer:
Fixed some minor bugs of Newton Blockchain Explorer.
NewInvoice:
Business development of NewChain-powered Blockchain Invoice Technical Solution is ongoing.
NewChain:
NewForce 2.0 for Newton 2.0 is being developed.
Technical Development for NewChain opening is ongoing.
❏ Ecosystem Progress
According to the news from the "Miaocai Digital Group", Mr. Du Jie, who is the chairman of Miaocaiwang.com, held a meeting with Cili Taxation Bureau and other departments last week to determine the technical plan and management process for the fiscal and tax incubation park and blockchain invoice landing, and to determine the specific implementation plan for the business of issuing invoices on behalf of tax collection and blockchain invoices, including system platform construction, business scope, process management, etc.
❏ Community News
1. The Huobi Chat "Newton Dream Community 1 Group" operated by the community node "Dream Community" ranks first on the Huobi Chat reputation list, with a current reputation value of 3,304,300, and it is also the only Huobi Chat community with a reputation value of more than 3 million. "Dream Community" takes out incentives from its own node income, and enables users to actively participate in activities by organizing activities such as sign-in. This group has grown into an important window for Huobi users to know Newton.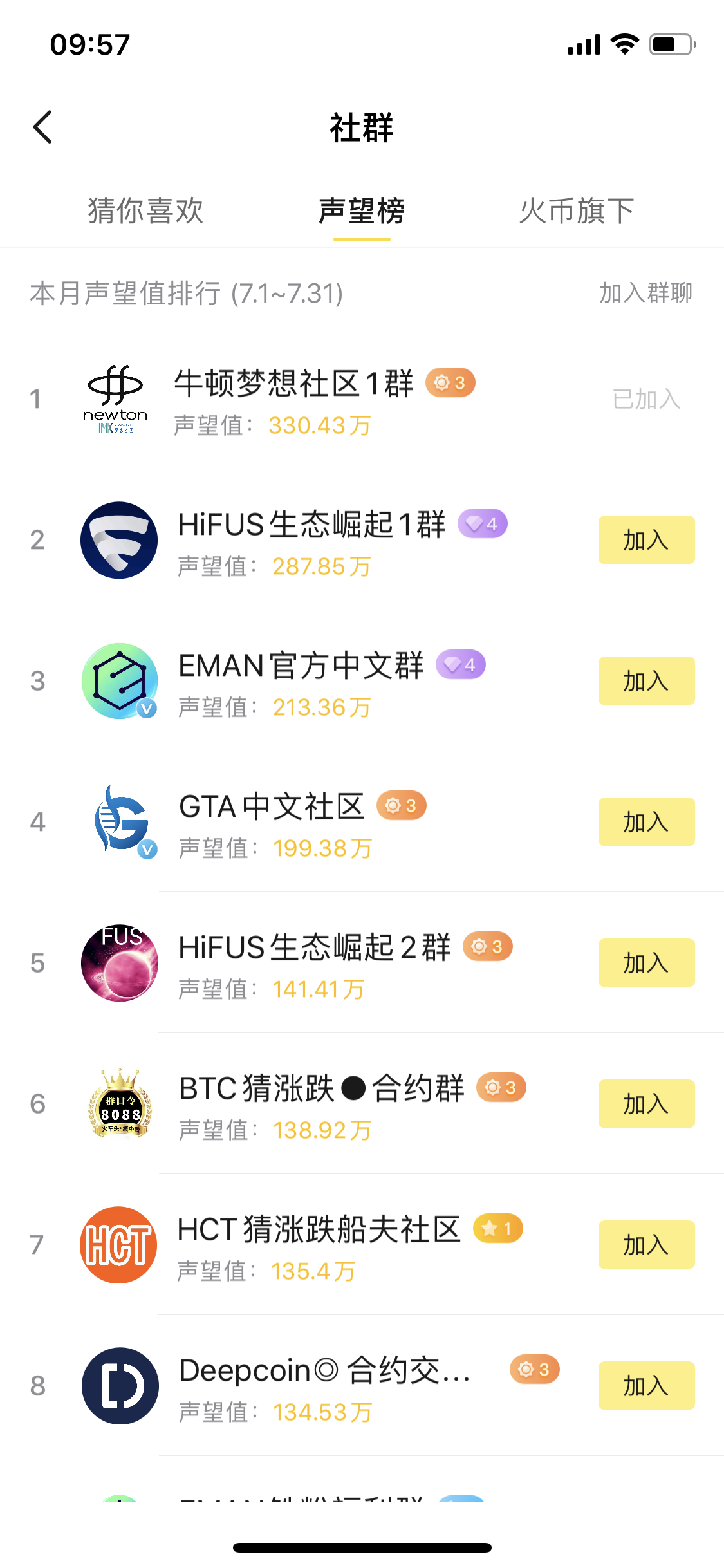 2. By the end of last week, there were 56 Newton community candidate nodes, and the number of selected nodes was 52. The amount of NEW locked in nodes exceeded 8.776 billion.
3. By the end of last week,NEW had more than 727,292 addresses and NewTax had collected more than 29.43 million NEW.
Contact us
You can learn about the latest news of Newton project through the following links:
Newton official website: https://www.newtonproject.org
GitHub: https://github.com/newtonproject
Twitter: https://www.twitter.com/newton_project
Facebook: https://www.facebook.com/newtonproject
Telegram English: https://t.me/Newtonproject
Medium: https://medium.com/@newtonproject
Reddit: https://www.reddit.com/r/newton_project
Instagram: https://www.instagram.com/newtonproject_official
Youtube: https://www.youtube.com/channel/UCO3hbqzT5abDbVKzK5EQigg